IT - Manual
 To Maintain Software/ Hardware; Computers, Network, Server, Printers & Filing System.
 Ensure users can access the Internet and email.
 Printers must be installed / added to all computers and configured.
 Responsible for Backup of Server and Computers.
 Troubleshooting.
 Responsible for current Websites.
 Develop new pages for the Kavaq websites as required.
 To create official emails.
 Create / Delete User.
Users, Groups & Restrictions
All employees have the username and password own.
Users usually have restrictions such as installed software, uninstall software and web sites, etc and few websites.
If you want to install or uninstall any software you should contact the Administrator.
Security
All the computers are protected with Symantec Antivirus.
Updating antivirus weekly automatically.
For security purpose Active Directory is installed on Server.
All the users can login through domain server.
Server
Server: Windows 2003.
Server IP: 192.168.1.10
User Name: Administrator
Password: ********
Windows 2003 installed on Server with Active Directory.
The entire network Users policies can create/modify from the Server.
Server is password protected and Server antivirus is installed.
Some of folders are shared and mapped to computer as some admin folders can't be access by users.
Server has rights to give access level to the Users.
Email
Official Email can be created by the Administrator.
Email Quota may be extended by the Administrator.
Email configuration is manual on Server name & IP with outgoing port.
You can connect online through this link http://www.kavaq.com/webmail .
cPanel
Domain: kavaq.com
User Name: kavaq
Password: *******
Hosting Package EBiz 3 Linux
Start Date: 30 July 2006
Server IP: 110.4.45.64
Website URL: http://www.kavaq.com
Control Panel: http://www.kavaq.com/cpanel
Web Mail: http://www.kavaq.com/webmail
User Manual: https://support.exabytes.com.my
The tutorial can be found through below link:
http://support.exabytes.com.my/tutorial/cpanel.php
You may refer to some instant solution from our community forum at:
http://forum.exabytes.com/help or email: support@exabytes.com
Technical support is available 24x7
To access member resources page: http://support.exabytes.com.my
Website is designed in PHP and backend.
Website Backend:
Site name: http://www.kavaq.com/backend
User Name: thedeeper
Password: ******
All JPG files and other documents should be in PDF format as standard. PDF is a standard document that cannot be edited normally.
As we use Ms Office 2003, so if you use Office 2007 sure you save the file in 2003 as an example below:


Make sure that files and folders have correct name. The file name should contain Ref. No (if applicable) the title of the file, date and version example below.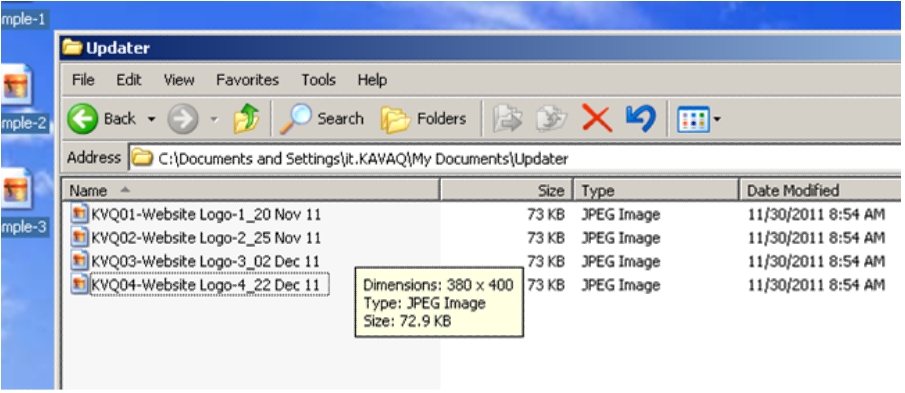 All files must be placed in the appropriate folders. Proper filing system is more important, there is less chance of lost files.
Printers
Currently we have 1 Ricoh Color Laser Jet printer & Ricoh All in one Scanner/Printer/photocopier.
Make sure the settings below to have your computer for RICOH Aficio 2027PCL 5e

How to Configure RICOH Aficio 2027 PCL 5e.
1.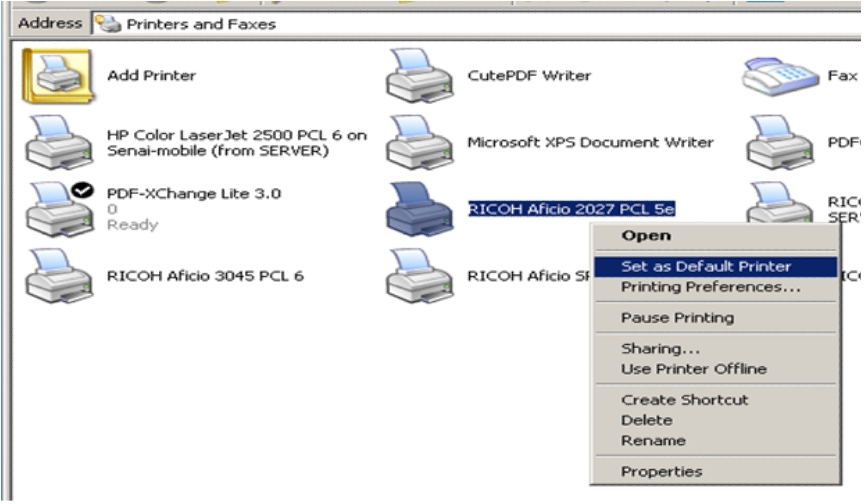 2.

3.
4.
5.


Time Internet Connection
User Name: pd1_avaq.buss@timebb
Password: ******


All users to backup their own files.
Software's
 Windows Server 2003
 Windows XP
 Active Directory 2003
 MS. Office 2003 / 2007
 MS. Publisher 2003/ 2007
 Skype
 PDF-XChange Lite 3.0